Paul Basham Associates provide ongoing Civil Engineering, Structural Engineering and Transport Planning support to Buckland Development Ltd for Welborne Garden Village - A development that will provide up to 6,000 homes, shops, schools, employment, green spaces and local facilities.
The Infrastructure 2 package consists of a mile long bridleway spanning from Funtley to Dashwood Forest within the aptly named Welborne Mile (Suitable Alternative Natural Green Space). There is also an inclusion for a car park in the Dashwood area, a multi-user link between Kiln Road and the proposed M27 J10 works, strategic foul sewers and construction haulage roads.
Paul Basham Associate's commission was to provide Civil Engineering and Transport Planning input for the Reserved Matters (RM) planning application. We are now supporting the construction stage, including provision of detailed working drawings and site support.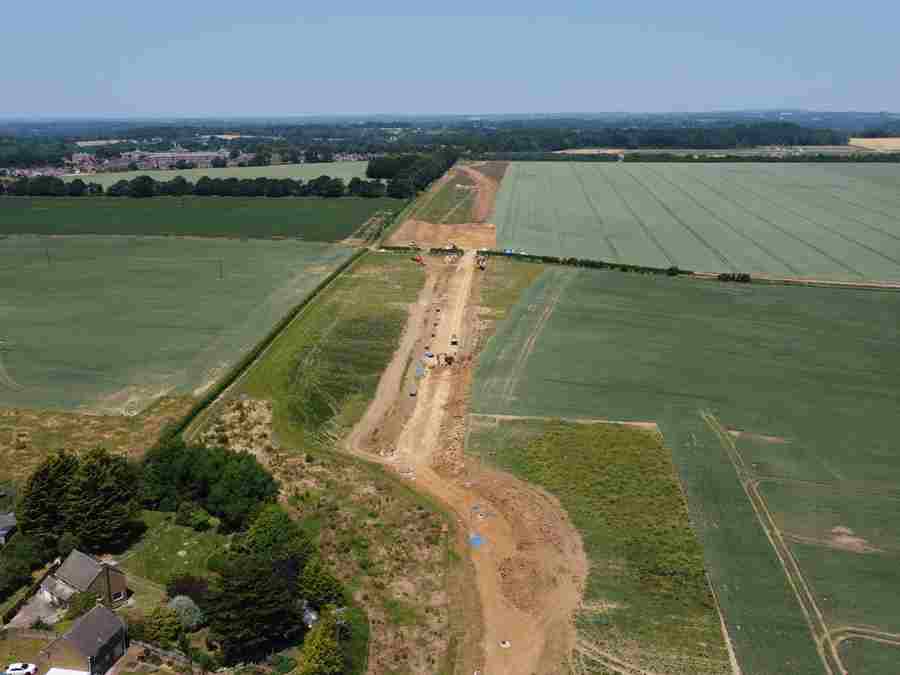 Planning support
To support the planning application, a comprehensive drawing and report package was produced including engineering layouts (detailing drainage, alignment and materials), vehicle tracking, standard details, a drainage technical note, and a CTMP (outlining the proposed construction traffic routing, management and how disruption is to be minimised)
Bridleway design
The first step was determining the alignment of the Bridleway; the general approach of which was to follow the existing topography to minimise required earthworks, ensure compliance with LTN1/20 – Cycle Infrastructure Design, and follow the principles outlined within the Outline Planning Application (OPA). We pro-actively liaised with Hampshire County Council's Countryside Service's to agree an acceptable surfacing specification and drainage provision.
Dashwood SANGS car park
The car park geometry was designed to accommodate a specific number of private vehicles, disabled users, and horse-box trailers; Vehicle tracking was completed for the appropriate vehicles to determine the suitability of the design. The British Horse Society were consulted, amongst other stakeholders, on the planning application and raised some queries; we engaged with them and developed various  iterations of the car park design to address their concerns and agree a final design.
Strategic foul sewer design
The foul sewer from Phase 1 of the development runs down the Welborne Mile ultimately connecting to the existing Southern Water sewer network just north of the M27. We designed this in consideration with the bridleway to ensure that long term maintenance and ease of construction was considered. We also had to undertake a high-level design of the wider site foul sewer strategy, as this sewer also needs to allow for future connections from various adjacent parcels of future development.
Tender and construction support
Following planning submission, we produced a detailed tender pack and subsequent construction package which included items such as detailed engineering layouts, construction details, earthworks cut and fill analysis, longitudinal sections (for sewers and the bridleway), and setting-out.
The Reserved Matters Application was approved in December 2022. We are currently progressing various applications such as S278s for highways works, S104 for the adoption of the sewer and S257 for the diversion of the PROWs. Construction has commenced on-site for the elements unaffected by the applications, and we are providing continual support to the appointed contractor, Blanchard Wells, and will do so until construction is completed.