Paul Basham Associates provide ongoing Civil Engineering and Transport Planning support to Buckland Development Ltd for Welborne Garden Village - a development that will provide 6,000 homes, shops, schools, employment and local facilities.
As part of the Welborne project, a new access to the existing Boundary Oak School off the A32 is required as the current access off Pook Lane will be stopped up as part of the wider M27 Junction 10 improvement works; these junction works are to support the overall development.
Paul Basham Associates' commission is to provide the Civil Engineering design to support planning and construction of the access onto the A32 and the private road access leading to the school itself.
Initially, we produced a pack supporting the discharge of a planning condition for the construction of the on-site Boundary Oak access. This included a Civil Engineering General Arrangement Design, a Flood Risk Assessment, and a SuDS management and maintenance plan. The design of the access implemented no-dig construction for a length of it due to it's proximity to a swathe of trees. The drainage design consists of conveyance swales, drained via kerb grips, leading to an infiltration basin.
We then undertook the design of the access onto the A32 which takes the form of a 'Left-in Left-Out' (LILO) junction. We collated and submitted the design ready for a S278 submission pack to Hampshire County Council (HCC). We worked closely with HCC addressing their comments and received technical approval in 2021. We have also submitted the TRO for banned movements i.e. right turn in and out.
After receiving TA for the LILO, we proceeded to put together the tender and construction packages for the access. Early Contractor Involvement (ECI) was utilised and we attended meetings alongside the Boundary Oak school, our client, and the selected groundworker prior to the works commencing to ensure we were aligned in scope, programme and deliverables. During construction of the access road we coordinated closely with all parties and attended site to ensure that works were progressing as expected. We also fielded Requests for Information (RFI) and undertook quick necessary changes to drawings when required to ensure the programme run smoothly.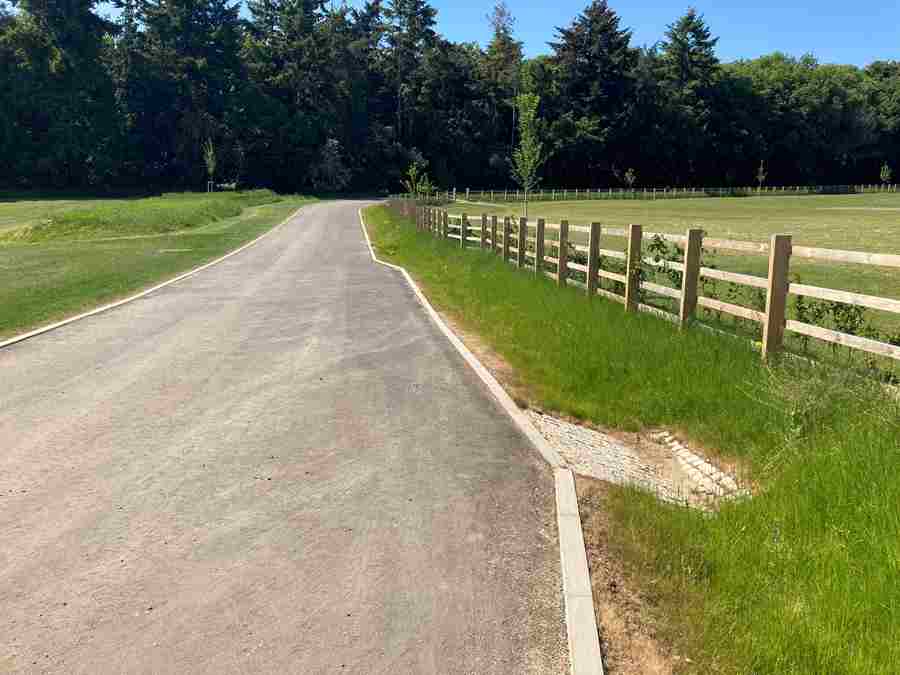 The access road to the school was successfully built as per the design and to programme. We are soon to gear up for commencing with the LILO access; for this we will produce the tender and construction packs and undertake pre-start meetings with HCC prior to works commencing. We will then support the successful tenderer during construction to completion.